2x
enrollment after launching new CRM
1/2
registration time while maintaining COVID-19 safety protocols
Southeast Lineman Training Center (SLTC) is the premier training school for lineworker training, consistently producing an elite group of highly trained and certified graduates. SLTC provides life-changing career opportunities to their students, and a steady stream of qualified workers to two infrastructure industries that are a vital part of our national security. In doing so, SLTC embodies the same core values that are instilled into each student: Knowledge, Discipline, and Ability.
Read more
your look behind-the-scenes
Since 1999, Southeast Lineman Training Center has trained elite linemen for the electrical and communications industries. In late 2019, the Admissions Team recognized their current customer relationship management (CRM) software was growing increasingly inefficient and ineffective. This meant that their first interaction with potential students, their application process was also inefficient — and ineffective.

Having outgrown their old CRM, they would try to add features they needed, but these additions would lead to errors in other processes of the CRM. They also found data missing from reports they ran, leaving their vision of their work frustratingly incomplete. This made forecasting on enrollment metrics or following up on abandoned applications almost impossible.

Their students were filling out paper applications with no transparency of their status in the admissions process, and their registration events for incoming students was almost entirely done with paper. Once received, paper applications then had to be manually processed by the Admissions Team, tying up valuable one-on-one time for following up with applicants. They knew they had to digitize and automate these processes and create a frictionless path from the beginning to the end of the admissions process. A referral to Salesforce partner and developer VectorX started this transformation, and SLTC has never looked back.
please excuse the technical difficulties
Southeast Lineman Training Center (SLTC) is a training school for lineworkers, boasting of the most premier program, producing elite and highly trained graduates. When their CRM was not up to the premier standards of the rest of their program, they knew something needed to be done.

SLTC had only been using their previous CRM for six years, but they had spent that time putting band-aids on problems, and working around holes in the performance. SLTC had outgrown the inadequate software and realized just how much it was holding them back from their full potential. In addition, the original setup of the software was not done with a comprehensive knowledge of SLTC's growth and scalability. As they grew and their needs increased, they tried to add functionality, but these additions would often lead to other errors in the software.

This piecemeal approach to infrastructure caused more than just headaches. SLTC found that they could not access all their data with accuracy. They would run reports on data and get different variations of the same report each time. Data was always missing, and reports were incomplete. This meant the Admissions Team could never have accurate and thorough information.

To top it off, the old CRM did not have an online application process. This made the application process for potential students clunky, cumbersome, and manual. Applicants would have to pay online and then print the application, fill it out in ink, scan it — and finally email, fax or mail it back. This cumbersome process deterred many potential students, even at times applicants who had already paid the application fee. SLTC knew they had the potential to do better, for themselves as well as for their students. They knew this antiquated process had a direct correlation to how many interested people were not finishing the application process and becoming a student.
They knew this onerous software was holding them back, fatiguing their applicants, and leaving many potential students behind. The unnecessarily manual nature of the software impeded admissions staff from making meaningful and thorough interactions with potential students. They didn't have time to be strategic, and were stuck doing the manual stuff.

Compounding all of these challenges, once registration day came, they had an on-campus registration procedure involving mainly paper & ink — because the processes were not automated or online with their clumsy CRM. Not only was this a major undertaking that demanded multiple days to complete, but it also did not allow for social distancing that was suddenly necessary due to the COVID-19 pandemic.
"When our old CRM was set up, we didn't know what we were going to need it for, so it wasn't set up for everything we would need at the forefront. So, when they had to add things on, I think it really started messing with the functionality of it. We just had to piece stuff together."
— Jared Anders
solutions that
take center stage
SLTC chose Salesforce because they had heard about the Educational Platform that Salesforce offers. After seeing the software, they instantly recognized its capability. VectorX came on-site to their admissions office and watched their processes, learned about their specific needs, and gained a deep understanding of how they could customize Salesforce to meet the premier standard of SLTC.

Once VectorX had collaborated with the admissions staff about their specific needs, they went to work. They regularly involved SLTC in the process of development and had regular meetings during set up. During implementation, VectorX spent two weeks receiving feedback from SLTC, using it to make adjustments and additions the team needed. The launch was smooth and the SLTC admissions team immediately started reaping the benefits.


"They literally came in, they looked over our counselors' shoulders as they were working. They were extremely interactive in showing us what they could do, but also in learning what we were doing. They left with a stack of unorganized papers, spreadsheets, applications, documents, videos, the links to our TV show. And when we heard back from them, it was like they had this unbelievable understanding of everything we did."
— Jared Anders, SLTC
"We're a small company, under 50 employees, and we're all very close. When the admissions team and I started working with VectorX, it was almost as if they just melded right into the family and became a part of what we've had for years."
— Jared Anders, SLTC
outcome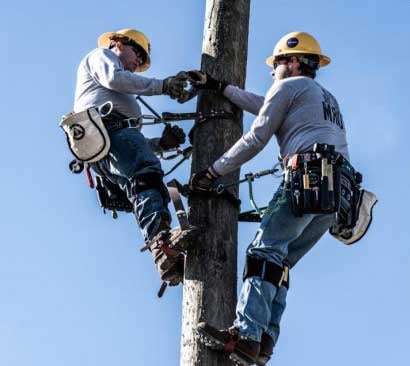 After just a short time with their new Salesforce software, SLTC quickly saw the advantages of their new platform. Only months after implementing Salesforce, SLTC saw the highest enrollment they have ever had.
There was an immediate difference in the student life cycle, because incoming students were able to complete their applications online — without antiquated or clunky processes. Students can now log into the student portal and see exactly where they are in the admissions process, resulting in a significant drop in the number of abandoned applications.
A huge portion of the admissions process was automated. Programmed triggers for different team members automatically initiate tasks, so that they don't have to be manually scheduled and performed. Simplifying the workflow in this way freed up the admissions team, allowing them to prioritize recruitment.

As if all this wasn't enough, the registration process is now streamlined, digitized, and COVID-19 friendly. The upgrades allowed them to register more people in less time, all while keeping a safe distance.

In the end, the SLTC team is more empowered than ever to achieve their goal: to change lives with great career opportunities, and to contribute to national security by training the most elite lineworkers in the country.
When asked if they would refer VectorX to a colleague, Becky Gargis, Director of Customer Care replied "Absolutely."
" They were so incredibly helpful and very easy to work with through that process."
— Jared Anders, SLTC
"We've got the highest enrollment we've ever had. It was like literally the moment we pressed launch; our enrollment felt like it doubled."
— Jared Anders, SLTC
" We have a lot more time for phone calls that are people just interested in the school. We can take more time with getting people here."
— Priscilla Bailey, SLTC