A picture is worth a thousand words may be cliché, but that doesn't make it any less true.
Life in 2020 looks differently than anyone could have imagined and for many of us the challenges of this year mean more things to juggle and more distractions, both at home and at work. Whether or not a company has seen their sales impacted this year, knowing the status of their customer accounts, opportunities and cases at any moment is crucial. Anything that we can do to make life easier and faster is always welcome.
Salesforce, for many of us, relies on words. And often times, it relies on a bunch of words: statuses, next steps, descriptions, dates… All of that information is valuable, but it can lead to a lot of reading when someone is looking at a record. For most Salesforce users, there isn't a way to glance at a record and quickly see "where things are".
There's no doubt that displaying that information visually can go a long way in terms of making Salesforce more user friendly.
Salesforce dashboards and report charts have always been a great way to make sure that information is easily consumable. Few things spur executives to action like seeing the overall pipeline value in red on a dashboard or motivate a user to update their data than seeing their name at the bottom of the list.
Dashboards provide data visually when we're looking at things as a whole. But they don't bring the same level of visual insight to individual Salesforce records. Including images on individual Salesforce records can highlight records and drive users to take action. Being able to glance at a record and immediately know 'where things stand' is crucial.
Replace the thousand words on the record with a single picture:
Use colored flags on Opportunity Products to give users insight into how the proposed Sales Price compares to pricing thresholds.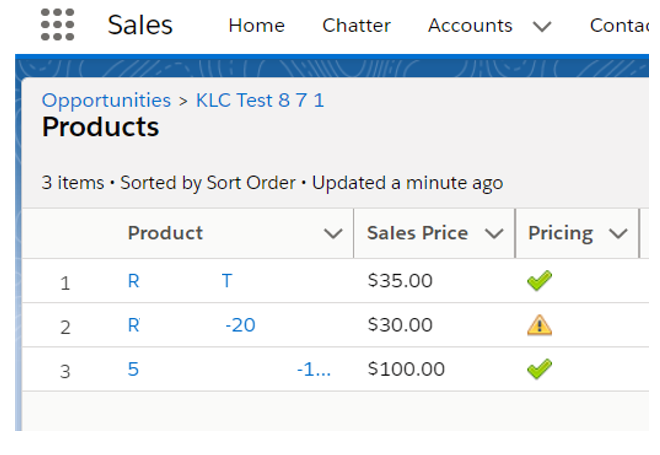 Account Heath can be monitored with Green checkmarks or Red Stop Signs.

Case Statuses can become easier to understand with images.

Salesforce Labs offers a graphics pack with hundreds of images on the AppExchange that can be downloaded into many Salesforce orgs. https://appexchange.salesforce.com/appxListingDetail?listingId=a0N30000004cfIcEAI
There are images of stop signs, checkboxes, flags and more. Adding these images is as easy as adding a new formula field to an object and offers a lot of 'bang for your buck', giving your users a visual representation of key data that they can view at a glance!